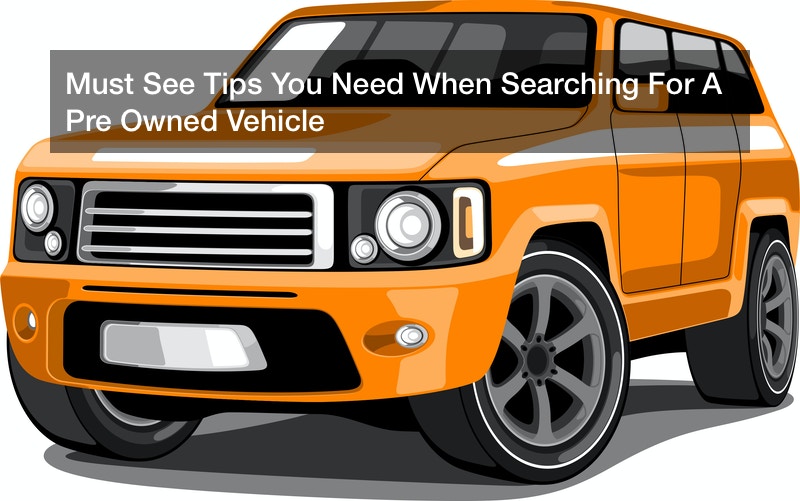 If you live near the city, chances are that you're commuting to work. Spending over an hour in your car everyday means that you need one that is reliable, comfortable, and functional. Not everybody has the money to buy a brand new car, as the average price for one in the United States is around $35,000. That's more than a lot of people make in a year. This is why many people regardless of income search for used cars. Out of every 4 vehicle sales, 3 of them were used cars. This means there's plenty of pre owned vehicles on the market. A pre owned vehicle doesn't have to be an old and run down vehicle. Finding a well maintained used car in a certain price range can be a challenge. However, these days there are plenty of inventory websites, tips, and tricks that can help you in your search for a vehicle.

A dealership that cares about it's inventory and customers will not have broken down cars for sale. When you arrive at a car lot and a sales person is guiding you toward pre owned vehicles that are pushing 20 years or look like they have been in a wreck, run far away. You need to find the best deal you can, not settle for junk simply because your budget is low. Use your intuition and do not let a seller convince you to consider vehicles that are below standard.

Avoid dealerships with pushy sales people. We all know the stereotype, and most aren't above it. These salesman will hide problems from you and take advantage of any weak points they detect from you. Some may even intimidate you by exploiting your lack of knowledge on pre owned vehicles. A good salesman will properly negotiate with you on price and try to get you a car on your terms. Thankfully, many dealerships have online reviews explaining the personal experiences of other visitors to help figure out the type of salesman there. No matter the dealership, the best course of action is to never go alone. Have at least one other person, who knows what you're looking for, go with you to the lot. Many pushy salesmen take advantage of people visiting alone, which psychologically makes it easier to intimidate you. Having the salesman outnumbered gives you a small advantage and can keep you from getting manipulated.

Once you find a car in your budget inside of a dealership, you're definitely going to want to check it out and test drive. During this time, check the smallest features within the car.

1. Look for stains and rips on the seats, floors, steering wheel, and dashboard.

2. Check the doors to make sure they seal and shut properly.

3. Test the windows or sunroof to see if they all open and close.

4. Try plugging your phone into any ports to ensure they are functioning.

5. Test any lights within the interior of the car.

6. Test the radio and CD player.

While these are all small things, even the most reputable of dealerships will not notify you of these if a car exhibits problems with them. Some of these features may not even matter to you, but they can matter towards the price. Use these small problems to negotiate down the price. Depending on what the problem is, you may be able to successfully knock off a few hundred dollars from a pre owned vehicle.

Do not ever visit a dealership when you are on a time constraint. This includes during your lunch break, or when you have plans later that day. Many people end up spending hours at a dealership to buy a car. If a salesman senses that you have somewhere to be, he will use it to his advantage. Play the salesman's game and stay there and talk for as long as possible. This works even better if it's later in the day, as you may end up getting a pre owned vehicle for way less than listed simply because the salesman wanted to get you out and finally go home for the day.