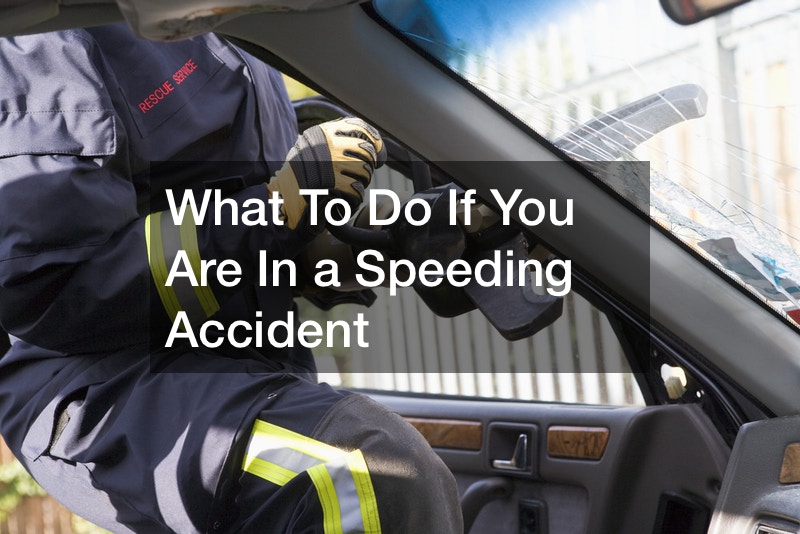 So, you finally got your driver's license, and are you ready to hit the road? Congratulations! That's a big step. As you enjoy your newfound freedom, you want to keep in mind that teenage speeding accidents are on the rise and when they happen, you want to be prepared.
Here is what to do if you find yourself in such a predicament.
Slow Down And Stop
The first thing you should do is to stop. Yes, the accident may be so serious that you will need an accident lawyer, or minor enough for you to have an out-of-court settlement. Even if you think that no one was injured, just stop.
Do not drive away from an accident scene before making sure that everything is okay and sorted.
Secure The Accident Scene
When an accident occurs you want to do everything you can to prevent another one from happening because that is likely to happen. You can keep your flashers on or set up flares to forewarn other drivers so that they can slow down as they approach the scene.
If an accident happens at night and your lights fail to work, you can use a flashlight. It does the same job.
Contact the Police
It is important to call the police even if no one is injured in the accident. This is because you don't know whether you may need a police report when it comes to filing an insurance claim. You may also need notary services here. The vehicles involved in an accident should not be moved either unless they are obstructing the road.
Provide an Accurate Record
After calling the police, ensure that you give them an accurate account of what happened once they arrive. Lies are common in teenage speeding accidents and that is because youngsters are often afraid of the repercussions they will get from their parents or authorities.
If you are unsure about something, make it clear to the investigation officer. Do not guess or speculate. For instance, if you are not sure about whether you are injured or not, state it just as that. Usually, the injuries and pain from road accidents begin to exhibit hours after the incident.
You may also want to ensure that the other party involved in the accident gives a correct account of events as well.
Gather Evidence
With teenage speeding accidents, you can never be too sure what will happen in terms of insurance claims and prosecutions. In that regard, you want to gather as much evidence as you can from the accident scene. Even the best car accident lawyers will need such evidence to work with.
If you have your cellphone with you at the time, make a point of taking pictures of the vehicles involved and any visible injuries if you have any. That said, do not get in the way of ongoing police investigations.
Share Information
Ideally, an investing police officer should collect information about your accident. However, it may happen the police did not respond to yours. In such a case, it would be wise to get the telephone number, addresses, and names of all the people involved in the accident.
While on it, you should also get insurance information by asking to see the insurance card of the other vehicle involved in the accident, both passengers and driver. If there are any witnesses, you should also get their contact in case your attorney needs to contact them in the future. Again, because things may get tricky with teenage speeding accidents.
Make a Report
It is important to make a report about any accident. This doesn't apply just to teenage speeding accidents. As such, you need to notify your insurance company about your predicament as soon as you can. Most policies require you to give full cooperation and report such incidents within a particular period.
You will also need to know things like if you get medical benefits along with your insurance cover. That kind of coverage is known as Med Pay and requires you to pay extra, so it would be best to use it during such times. You should submit your accident-related medical bills if you have the coverage.
In case you exhaust your Med Pay benefits, your private health insurer will come into play. Note that Med Pay benefits are accessible to all the occupants in the vehicle and your insurance rates should not be increased simply because you submitted claims for Med Pay coverage.
Seek Medical Attention
As we have previously mentioned, motor vehicle injuries are often not immediately obvious. Most people who have gone through the same will tell you that they begin feeling pain one or two days after the accident.
You should therefore see your doctor or visit a medical facility to be checked out unless you are sure that you were not injured in the accident. With teenage speeding accidents, you may feel like you suffered minor injuries because the impact was not as massive, but you could end up with a serious and permanent injury.
This is particularly true if you were dazed or lost consciousness for a few minutes during the accident. Chances are that you may have suffered a close head injury or a concussion. Of course, that can lead to negative behavioral and cognitive changes if untreated.
Store Information
With teenage speeding accidents, you won't know when particular documents will be required, especially by your lawyers. To that effect, you want to keep all the documents that have to do with the accident together and in a safe place. Such documents include receipts for the car involved in the accident if it was a rental, the contacts of the people involved in the accident, your claim number, as well as the expenses incurred because of the collision.
Know And Protect Your Rights
The most important thing to do after your accident is to probably consult with an automobile injury lawyer. They will educate you on your rights as well as ensure that valuable evidence is not lost or destroyed.
Most insurance companies will want to make statements right after an automobile accident. You want to be equipped with legal knowledge and advice before going to make a statement. By consulting with your attorney beforehand, you will know how to handle issues ranging from how to get the best medical care and how to ensure that you are fully compensated for your car.
You should trust your attorney's word because, as they advise you, it is in their best interest as well. How so? Because personal injury attorneys depend on contingency fees. That means that they will not be paid until you are compensated. Surely, their goal here would be to ensure that you are paid so that you pay them as well.
Tips For Navigating a Road Accident
When teenage speeding accidents happen, you are likely to be overwhelmed and all over the place not knowing what to do. Here are some tips to help you navigate such a scenario seamlessly.
Attend to The Quiet Ones First
At an accident scene, some people will be screaming and growling in pain, while others will be quiet. Now, you will be tempted to attend to those who are making noises, but the opposite is what should happen.
You see, those who are screaming are alive and breathing. Therefore, your main concern should be to check on those who are immobile and quiet. As fast as you can, check to see if such people are responsive and if they have a pulse.
If there is no response or pulse, place the person in a position where they are leaning to one side or forward so that their airway remains open. Try not to move them as much to avoid twisting them. You can also keep talking to them in a calm voice even if they are unconscious as they can still hear you.
Do Not Waste Time
If the casualties at the scene of the accident are not breathing and the ambulance does not arrive first, you will need to do the resuscitation on your own. If you do not know how to do it, you can call an emergency hotline and have a professional guide you.
Avoid Moving the Casualties
With teenage speeding accidents, there is a likelihood that the vehicles involved may explode and if this is the case, then you will need to carefully remove unconscious casualties from the car or away from the scene. If there is no such danger, try to resuscitate or perform first aid from where they are.
This is because you risk injuring yourself or causing them more injuries when you try to move them. As for the conscious ones, they should be removed from the accident scene to be in the care of bystanders until medical help arrives. Look out for dazed and confused casualties as they may wander into danger. Ensure that they are calm and warm and help them contact their families. Do any first aid if you need to.
Consider the Level of Damage
Usually, in teenage speeding accidents, you can be able to gauge how many casualties are injured, depending on the nature of the wreckage. If there is a lot of damage, chances are that the persons involved in the accident suffered internal injuries.
Simply put, if the car will need a professional auto repair mechanic to bring it back to life, the casualties will need prompt medical attention. This also means that you need to have an ambulance on the way as soon as possible.
Try to Be Calm
This sounds like outlandish advice. How is it possible to be calm in the face of an impending fatality? If you can, try to calm yourself down as well as those around you. If any of the people who are injured are conscious and going crazy, try to calm them down as well.
Screaming and moving a lot involves a lot of energy. It also does nothing for the mental state of anyone at the scene. This is not the place to lose your cool. In that regard, you want to try and be as calm as you can be and get the others to do it as well.
Do Not Repair Your Car Before Settlement
Granted, you want to use your car after the accident, but getting local car mechanics to fix it or take it to a car body shop for repairs before your case is finalized would only be setting yourself up for failure.
Get a Lawyer And Speak To Them First
After everything at the accident scene has been taken care of, the first course of action would be to talk to a lawyer. Do not engage the other party's insurance agency blindly, you may find yourself losing out or getting an unfair settlement.
Do Not Disregard Legal Advice
You may find yourself feeling that an insurance company is lowballing you as far as your claims and the settlement process or perhaps you think the settlement is fair, contrary to your lawyer's advice. Irrespective of what you think or feel, keep in mind that your lawyer has vast experience and knowledge when it comes to such matters, so disregarding their advice may be detrimental to you and you may find yourself dealing with a bail bond agent down the road, which is not good.
Practice a little patience. Who knows? The other party may end up being required to cover the repair costs of your car.
Being in an accident is overwhelming and tough, but it doesn't have to bring you down. It is not easy to bring yourself and those involved in an accident to be calm, but once you get through that, you will be out of the woods.
By implementing all the tips here, you should be just fine.